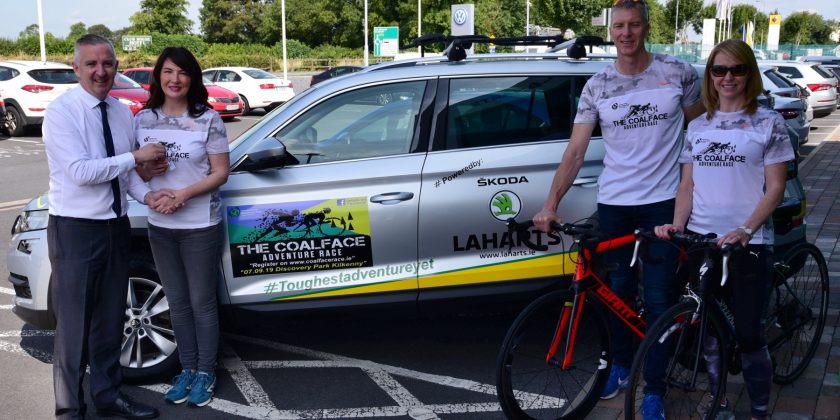 Laharts Skoda Proud Sponsors of Recent Coalface Adventure Race
Here at Laharts Skoda we are proud to have been sponsors and vehicle partners of the recent Coalface Adventure Race powered by Laharts Skoda.
The Coalface Adventure Race is a single day Adventure Duathlon. Based in a former coal mine, competitors were challenged with running and cycling up to four sections, combining running trail, forest track, hills and an abandoned open cast mine. The cycle sections took place on sealed tarmac roads of varying quality, from primary roads to quiet country lanes. Entrants had a choice of two different courses to pit their skills and stamina against.  Starting and finishing out of the picturesque Castlecomer Discovery Park, the facility acted as the central transition point for each section of the race. The Park provided a fantastic location for all those travelling along with competitors, with a huge range of activities open for any active family members including a massive Zip-wire, tree-top walks, playground and a woodland Cafe!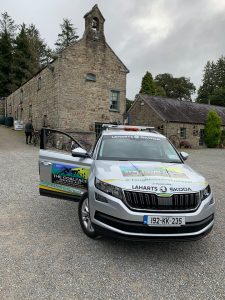 The brainchild of local man and adventure race athlete Ger Griffin; the race attracted over 100 entrants in this, its second year. Ger made use of the Skoda Kodiaq provided to great effect, with the vehicle proving to be a fantastic publicity tool across the county and beyond, with its eye catching livery.
Ger Griffin, organiser of Coalface Adventure Race powered by Laharts Skoda; "the feedback we got back from the event was mind blowing. Everyone loved the scenery and the route we laid on, but a lot of the entrants did say that they would rather be inside the warm Skoda! It broke my heart bringing back the Kodiaq to David in Laharts; it and the backing of Laharts Skoda helped us bring the event on to another level this year, in every way from in terms of image to the just the basic practical things, like getting across difficult terrain to mark out the course with posts and fencing, carrying bikes, you name it. We'd love to have it again!"
David Leonard, sales manager at Laharts Skoda; "we've been delighted to be involved with an event like this in our local area. We have had people regularly telling us about where they saw the Skoda Kodiaq with Coalface branding and for us it was an ideal fit, given Skoda's association with cycling and the off road capability of the Kodiaq."  
The Coalface Adventure Race powered by Laharts Skoda will return in  August 2020 and if you would like to find out more about this unique event visit https://www.coalfacerace.ie